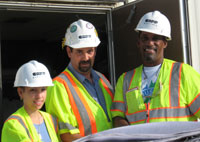 Capp Electric designs and builds projects-always balancing cost and function. We promise to provide our clients with a high-quality finished product, while being on time and within budget.
We provide expertise in design, code impacts, construction means, methods and scheduling. With our professonal, comprehensive involvement, you will be assured the full resources of what Capp Electric can offer your business. With our "hands-on" approach, we provide direction to all Capp Field Labor workers by providing periodic job site reviews and brainstorming sessions with our management team.
We also provide a monthly analysis and projection of each project with comparison to estimate materials and labor.